Hard & Softwood Decking Northampton
Call us to place your order for collection or delivery

Add Exquisite Decking To Your Garden
Whether you want to enjoy your beautiful garden over a cup of tea or have your friends over, decking is a versatile option to extend your living space. We have in store decking panels in different specifications to suit your requirements. You can also buy deck fixtures at our store. Whether you have placed a bulk order or want to buy a single item, we offer a collection and delivery service for trade and private customers in Northampton, Boughton, Pitsford and the surrounding areas.
Decking Panels And Fixtures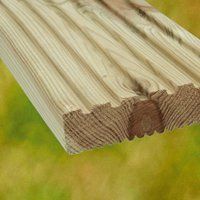 Decking boards
we supply Swedish decking boards of 125 width x 32 depth, and lengths of 3m, 3.6m, 4.5m, 4.8m, 5.4m
Framework
our framework sizes include; 100 x 50 and 150 x 50. We can also create customised framework to suit your deck size
Balustrades
we supply balustrades made at various sizes, heights and styles.
Deck posts
wooden decking posts or stilits to give your deck a strong foundation
Cross section railings
they offer an open design and come in a variety of materials.
All our deck posts, handrails and balustrades are complete with turned and square finish. At Hassett Fencing Ltd, we also supply sleepers in different dimensions. Call us or visit our store today. You can also take a look at our price list to see our range of landscaping supplies.
Place An Order For Your New Decking
We offer a delivery and collection service which is available throughout
Northampton, Boughton, Pitsford and the surrounding areas of Northamptonshire, Buckingham, Bedford, Milton Keynes, Leicestershire and Birmingham.

Old Quarry Field, Harborough Road, Pitsford, Northamptonshire, NN6 9RU
Contact form

We are open
7am-5pm      Monday-Friday

7am-12pm               Saturday

Please submit your enquiry and we will get back to you as soon as we can.